Fan-made Biker Scout Armor Kit
For Sale
My armor has been consistently accepted by the "501st Legion" Costuming Club when the final costume is finished to their standards.
Hand crafted, fan-made molds. These pre-trimmed, ready-to-assemble armor parts are made of glossy white ABS plastic.
Currently, kit orders are taking 10 days to produce after payment is made. Travel time after that depends how far away you live from Atlanta GA USA.
Contact Me to get more info about the armor kit or need the kit quickly!
THE PARTS LIST:

1 Chest
1 Back
1 Back hump
2 Shoulder bells
2 Biceps
2 Elbows
3 Belt box pieces
2 Hanging thigh boxes
2 Kneecaps
1 Boot holster
1 black Tank-topper
2 black Bicep T-bits
1 Assembly instructions
1 Decal Sheet




Thermal Detonator Kit

1 Thermal detonator box
1 Thermal detonator pipe
2 black Thermal Det Greeblies
2 Thermal detonator endcaps
2 Thermal detonator clips
3 Zip ties

Bag-O-Parts

"Sticky back" Velcro strips
"Sew-on" Velcro strips
Various width elastic straps
1.5 inch wide cotton web-belt
2 inch wide synthetic web-belt
4 Medium quickclip buckles

Armor fits normal body sizes; from heights of 5 foot 6 inches -to- 6 foot 3 inches.

I always recommend completing your fan-made costume with an Official "Rubies Inc. Scout Trooper Helmet" from ebay, or a vendor found online.
Contact Us for more information.
ABS Plastic - Scout Helmet
NOTE: Ultimately we encourage you to buy the Official Star Wars Scout Helmet made by RUBIES INC. found on ebay, or an official vendor online.
Below I am offering a "FAN-MADE" Scout helmet kit for the discerning Cosplayer. The ABS plastic keeps this helmet light weight and is made from the same plastic as my armor kit. This Helmet is not endorsed by Lucas Films or it's subsidiaries. It is offered up as a more movie-accurate-fan-made-alternative to the Rubies Inc. helmet.
This Helmet fits Small to Large size heads. (XL heads are "iffy" at this time)
We do offer assembly services of the helmet for $200 USD extra (30 days production time.)
Assembled Helmets are custom ordered and can take 4 weeks to produce and get to the post office. PLAN YOUR COSTUME BUILD ACCORDINGLY!!!!
Deluxe Helmet Kit

Plastic, decals, bolts, nose grebblie, and visor

Fan-made from .080 guage ABS plastic. Please allow 14 days for production time.

 

 




Armor/Helmet Combo Kit

Armor Kit plus Deluxe Helmet Kit, packed in one box. Please allow 14 days for orders to be processed and taken to the post office.

 

 



Helmet Assembly Fee

Don't have the time or tools to assemble the helmet kit yourself? Hire us to assemble it for you (30 day production time.)
(Note: the helmet kit is a seperate, individual purchase.)

$200.00

 

 
Black Stealth Armor
Armor Kit + Helmet Kit
Black ABS kits are just like the white kits, but made with black ABS plastic, and include "all black" webbing , straps, and black helmet parts (color matching of parts is important to us).
Allow 25 business days for order processing/handling/production.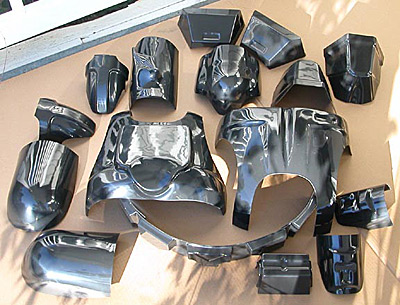 Scout Trooper Individual Parts Price List
- White or Black plastic -
$66 ... Chest Plate
$91 ... Back with Hump
$66 ... Kneecaps (2)
$66 ... Shoulders (2)
$56 ... Biceps (2)
$56 ... Elbows (2)
$56 ... Thigh Boxes (2)
$66 ... Belt 5-Boxes
$68 ... Thermal Detonator kit (box, pipe, 2 endcaps, 1 zip tie, TD greeblies)
$26 ... Thermal Detonator box (by itself, no kit)
$18 ... Thermal Detonator Endcaps (501st concave)
$70 ... Boot Holster with support strip
$35 ... Resin TankTopper and T-bits
$12 ... Thermal Det Greeblies
$25 ... Helmet Snout Greeblie
$20 ... Helmet Lens
$12 ... Helmet Bolts
$55 ... Bag-o-Parts (webbing, velcro, elastic, buckles)

Prices are in US funds. Shipping is free inside the USA, international shipping needs to be calculated based on destination. REPLACEMENT PARTS CAN TAKE UP TO 30 DAYS TO CREATE.
Scout Costume Gallery


Studio Creations' first armor

Dave Hofmann's assembled armor

Brian Frey displays his armor

Neil's new armor

Contact Us for more information.

I accept Credit Cards through Paypal.com's online payment system, and I also accept Money Orders through the mail.
© Studio Creations - All Rights Reserved