Welcome to DH2
Here at Studio Creations we try to give the budding costumer the necessary information about certain tips and tricks that go into making professional style costumes and props that are used in the Hollywood Movies.
Not sure where to begin on a project? We have a basic primer on costuming and prop making.
If you actually make something because of our tutorials, please, Contact Us and let us know. We enjoy seeing what fans are making from the information we are giving.
SciFi, Fantasy, Horror ... We love it all!

The green face-masks above were made from vacuumformed plastic. Vacuumformed plastic is one of our favorite materials for costume and prop making. A lot of people prefer using fiberglass in lieu of vacformed plastic. Each material has it's advantages and disadvantages (one day I'll write a blog article about the differences of the two.)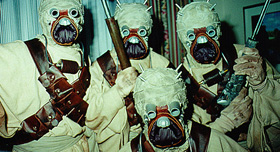 These Tusken Raider costumes were some of our all-time favorite costumes to work on. Check out the tutorial on creating these characters, it's one of the longest running Star Wars costume tutorials on the internet.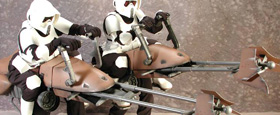 DH2: RANDOM BLOG
Time Management and Costuming/Cosplay
A Costume or Cosplay Project is very labor and time intensive. Making Checklists, Utilizing Calendars, Setting up 'costume work' schedules, and organizing your work area can all help you in achieving better project time flow.
For me Chestlists are absolutely necessary. I get distracted by multiple project ideas, so the chesklist has me constantly looking over my progress and seeing what needs to be done next. Whiteboards, Notebooks, and electronic Apps are all useful tools in creating checklists.
Creating a Calendar and working backwards from your event date in planning your costume schedule works wonders, and it also helps you figure out how much "costume work" scheduling you need to do each day/week for that project. Stick to your schedule as best as possible. Always note when you miss a day (it comes in handy for post-project assessment.)
Organizing your work area and maintaing a certain level of organization helps with time management. Knowing where your tools are saves time. I like to clean up for 10-15 minutes after every 4 hour work period. I cannot tell you how many hours I have lost over the years looking for a pair of scissors that were hidden under a bolt of fabric or scrap piece of foam that I tossed to the side during a project. Note: I now have a pair or scissors hanging from a wall hook in every room of my house, even the bathrooms.
Do an internet search on this "cosplay time management" subject if you want to get additional ideas on how to be more efficient.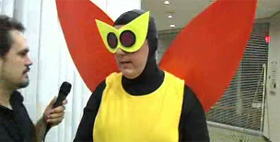 At the Dragon*Con Convention, we videotaped interviews with a few of the hard core costumers at the convention. Check out these interviews. A lot of good information about techniques and materials were divulged here.
©1997-present Studio Creations - All Rights Reserved