The Helmet
The RFT Helmet consists of:

Mark II Helmet Shell
Swept Back Wing
Smoke Colored Visor
Visor Plate
Commbox
Antenna (9-11 inch long)
Chin Cup
Chin Strap (black)
Foam Padding
| | |
| --- | --- |
| We are offering RFT helmets to the fans, in "Kit" or "Assembled" form. Allow 3 to 4 weeks for it to be shipped out. | |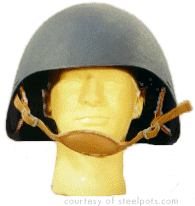 The ILM movie used Rebel Fleet Trooper helmet was based on a USA World War 2 Mark II Navy Talker Helmet. Ebay.com is a good place to find Mark II Navy helmets. One usually comes up for auction about every 4 weeks or so.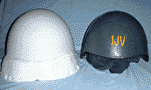 We pulled vacuum-molds from an existing MKII helmet
and custom sculpted the "swept back wing" vacuum-mold.
Helmet Color For years the Star Wars costuming community has been debating about the color of the Rebel Fleet Trooper helmets. Some very color-oriented prop-makers thought that the RFT helmet did not quite match the color of the walls of the Tantive 4 movie set, nor the color of the white stormtroopers armor. Movie prop collector David Oliver (Propmasters.net) actually owned one of the ILM helmets and from that helmet it was confirmed that the plastic was infact off-white in color, kind of a light gray. For the normal fan-costumer, a bright white helmet will do just fine, but for those concerned about accuracy, a light grey helmet is the only way to go. Good luck painting your helmets. :)


The smoke colored "blast shield" can either be painted onto the helmet or vacuum-formed from 1/8 inch smoke acrylic plastic, depending on your budget at that time.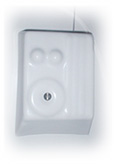 The Communication box on the side of the helmet has an odd bevel on the bottom of it. Hi-Impact.org supplied us with a vacuum-form shell from which we took patterns off of to make out own commbox out of. They did extensive research to the pattern of the details on the side of the commbox. To the best of their abilities, they think the commbox has one flat donut shape, two dome bumps and three vertical bars on it.
The measurement of this commbox is 5.5cm wide x 9.5cm tall x 2cm deep (little deeper on the corners though due to the curve of the helmet).
The Commbox is held in place on the helmet via a 1-inch long #6 threaded bolt.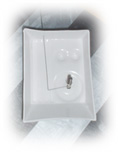 Take notice the wire antenna that protrudes out the top of the commbox. We drilled a small hole through the top of the commbox, directly above the three vertical bars. We then threaded a spring steel antenna wire through the hole and wrapped it around the bolt.

We fabricated our custom chin cup from a preexisting military chin cup. We added a raised bump to our mold and sealed in any divots that was in the original chin cup. The webbing can be threaded to be either inside or outside the chin cup, as both versions were present in the movie. The web strap connects to the helmet using the same rivets used to attach the "swept back wing".
We lined the top of the helmet with 1/2 inch thick foam padding for comfort. A small strip of foam inside the chin cup helps too.
    -end section