The DH-17 Blaster
Built from a Sterling Submachine gun, the movie blaster was modified with a custom machined aluminum barrell and a single point scope attached to the top.

Official replica prop company, Master Replicas , has recently issued a limited released numbers of RFT DH-17 Blaster Replicas to the public. Click over to MR's site and read more. They are pricey, but MR does quality work.

This screenused blaster above is a Dh-17 from The Empire Strikes Back.
The A New Hope DH-17 were less cluttered-looking in their design.
The ever-amazing Parts of Star Wars website has more info about the DH-17 blaster than I care to place here. :-)
Below is a picture of the "clean" DH-17 that was portrayed in "A New Hope". This reference screenshot was taken from the DVD.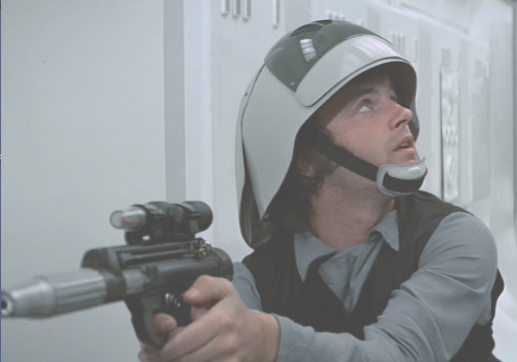 Master Replicas is selling a limited number of DH-17 replicas, as seen in A New Hope.
Update: March 15th, 2007... Hasbro Toys is making a Rebel Trooper Blaster Toy. It retails for $19.95 in most department stores and has been spotted on the shelves by a number of fans. This toy replica is only about 2 inches shorter than the Master Replicas Prop, so that means it's about 8 % smaller in size. Not a bad trade off between a $300 prop and a $20 toy.
Below are side-by-side comparision images of the Hasbro Rebel Blaster toy and the Master Replica Rebel Blaster prop (click for larger images).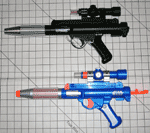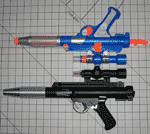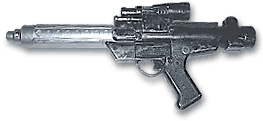 Back in 2001 we modified a Kenner/Hasbro Stormtrooper Blaster toy to make a cheap DH-17 blaster. Money was an issue for our decision back in those days.
-end section