The Belt/Holster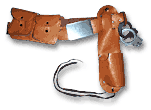 Completely leather, the belt and holster were probably custom made for shooting "Star Wars: A New Hope" . The pieces that make up the standard RFT belt and holster are:
The DH17 blasters (a modified real-world Sterling submachinegun) fit inside the holster so make sure the holster is large enough to accomodate the weapon. I recommend crafting the holster after you have made the blaster, that way the blaster will fit properly into the holster. Below are screencap references of the holster as it is seen in the official DVD movie. (I am acually suprised how close looking our holster is to the movie holster. We did not have these image references available to at the time we made our costumes)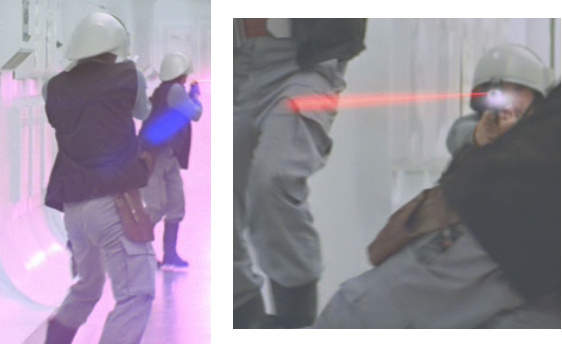 The metal belt buckle can be bought from tandyleather.com (you want to get the 2 inch -by- 4 inch metal belt buckle). Some of the Fleet Troopers in the movie had the corners cut off of their belt buckle to make an octagonal shape. You can use a hacksaw to cut the metal corners off, then sand the rough edges down with 150 grit sandpaper.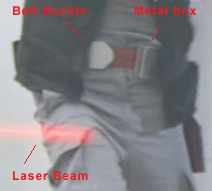 The 2 metal boxes listed earlier in this page are present on most Rebel troopers, but not all of them. Some troopers only had one box, while a few had none. They were rarely visible in any of the scenes that the Rebel tToopers were in, so if you cannot outfit your Trooper with the metal boxes, you can sleep safely knowing that you are still "movie accurate".
We equiped leather pouches to our holsters due to time constraints. No one knew that they were not movie accurate during any of the five public viewings of our costumes.
-end section