Gloves and Wrist Communicator
Each Endor Rebel Soldier wore Tan Leather Gloves and a Wrist Communicator.

The gloves look to be store bought working gloves, while the wrist communicator is definitely custom made.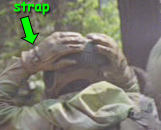 There is a elastic band on the back of the glove. It puckers the glove surface, keeping the glove taunt on the wearers hand.
In this close up shot of the gloves (seen when Han and the Soldiers are placing the detonator grenades inside the bunker) you can barely make out the lettering "Thoro" and "1200 LGE". These are definitely screen printed letters, but we have not identified the manufacturer yet (though it could be a "Thorobred" brand glove in a large size, hence the 'LGE' letters). If anyone thinks they can help identifying exactlly what gloves these are, please Email Us.
Note: Thanks to Ian M. for correctly reading the LGE letters in these poor quality screencaps.
Wrist Communicator
| | |
| --- | --- |
| | The wrist communicator looks to be either a vacuumformed shell, or a resin cast item. Color looks to be Olive Drab. |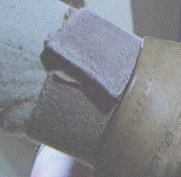 The wrist band on the communicator looks to be an elastic material, possibly similar to that of a sweatband, it clasps togehter with velcro tabs. The color of the band looks to be a blueish gray.
| | |
| --- | --- |
| | Not all rebel soldiers wore a communicator, so it is an optional accessory. |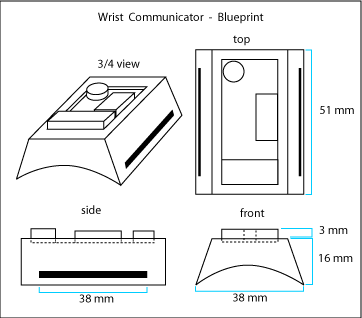 ©2005 Studio Creations - www.StudioCreations.com