Boots and Spats
The boots worn by the actors playing Endor Rebel Soldiers were "Sierra" Hiking Boots. The Sierra company does not make these anymore, so good luck finding a pair on ebay or in vintage clothing stores.

Any tan mountain/hiking boot with a thick knobby sole will work as a substitute for the Sierra boot. Israeli Military Boots are a nice substitute, too. The Israeli Boots have extra rubber detail on the toe of the boot, making it look very similar to the Sierra Hiking Boot.
Spats (or Gaiters)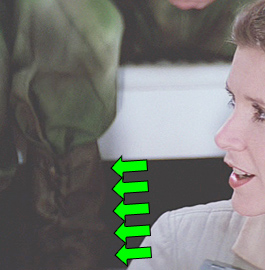 The Endor Rebel Soldier costume needs to include brown lower leg coverings to be considered accurate. These Spats (or Gaiters, as some will call them) are laced up in the front and have at least 5 lace holes. We estimate the spat to be 7 to 10 inches tall, depending on your calf length.
There is no sewing pattern for these types of spats, as they were probably custom made for the movie cstumes, so you will need to custom design your own patttern. Basically it should be a rectangle shape that wraps around the leg.
We recommend sewing your spats from a brown cotton material, and use black or brass eyelets for the lace holes. Distress and weather the final spat as need be to make them look used.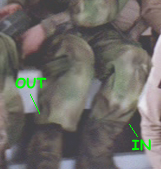 While the pants were seen untucked a couple times in the movie, we highly recommend everyone to keep their pants tucked inside the spat while wearing the costume. A sloppy Endor Rebel Trooper does not make the Alliance look good. :-)