Books and Links
Being in only a small part of all the Star Wars movies, the Endor Rebel Trooper has very little reference material out there. Below are a few of the good books and websites we know that are out there.
Reference Books
The Endor Rebel Trooper costume is kind of difficult to find pictures of. The few images that are out there are very scatttered across books and magazines. Below are some of the best books I've found that had images. The "Star Wars Chronicles" is probably the best reference book in for general purpose Star Wars costuming, but it is also the most expensive. The out of print "STARLOG guide to the Imperial Forces" had a couple pictures that were worth the $7.00 it cost too. Ebay.com is a good place to find both items at a fair price (Jan 2006).


"The Star Wars Visual Dictionary" has a good photo of Leia with her helmet on. Also there is a nice image of the Hoth blaster rifle, which is a cousin the the Endor Blaster rifle. The book costs about $15.00 plus shipping on Amazon.com.



The "Star Wars Chronicles" is the mother of all Star Wars reference books. Over 300 full color pages of studio shots of all the props from the Star Wars movies. I cannot stress how well done and detailed this book is. If Lucas would only allow this kind of quality in all his licenced items, we'd be some bigtime happy fans. (grin) The one drawback is that the book has only 3 images of the Rebel Endor Troopers, and they are small images at that. But, the rest of the reference shots of other costumes out weighs that one drawback, bigtime.

It's a bit pricey at over $120.00 but the price tag is definitely worth it for the quality you get in this book. You can get a good price on 'The Chronicles' at Amazon.com.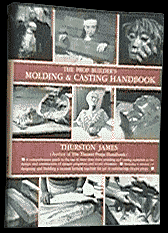 The Prop Builder's Molding And Casting Handbook by Thurston James. It costs about $17.00 U.S. and shows, in Step by Step instruction, about 8 different ways to make a mold. It also goes into great detail how to build a Vacuumform Machine. This book rivals "THIS" website in detailed descriptions! I cannot say enough about it... buy the book... use the book... be one with the book. Amazon.com has it instock.
Websites
RebelLegion.com An excellent website dedicated to Star Wars "Rebel" costuming. The highlight of this website is the discussion forums. It's worth your time to register and post on the costuming message boards, as they have some of the most dedicated rebel costumers there. (Feb. 2006)
Star Wars Dinner Nürnberg Thomas and Claudia Riedel created an excellent website dedicated to the building of their own "Endor Soldier" Squad costumes. Thomas put many long hours into making his group look as authentic as possible. (Aug. 2006)
TheForce.net An excellent website dedicated to Star Wars. Again , the highlight of this website is the discussion forums. It's worth your time to register and post on the FAN ACTIVITIES/COSTUMES_AND_PROPS message boards. A good many seamstresses post on that board, ready to give tips and hints about sewing. (Feb. 2006)
Parts of Star Wars Excellent reference site cataloging the parts that made up the costumes and props of Star Wars. They have identified many of the parts to the Rebel Endor Soldier costume. (Feb. 2006)
-end section